Gold Partner of PGConf.BE 2022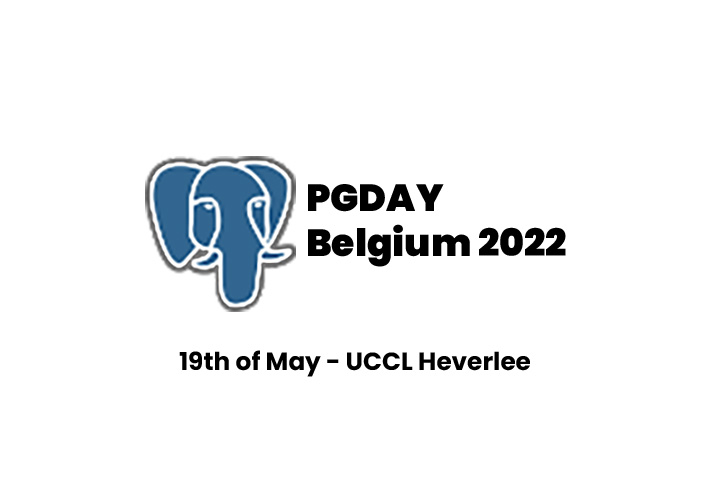 Event address
Geldenaaksebaan 335
Leuven - Haasrode Campus Proximus - UCLL
Belgium
Extra remarks
 
PRELIMINARY SCHEDULE
9h00    
Reception desk open
9h30     
Opening
9h40  
Opening Keynote: Riding the second wave
Open Source for relational databases    
10h20    
Touring the PostgreSQL optimizer
11h10      
Short break
11h20   

The pg_catalog was always there, use it!    
Point-in-time Recovery, target 2022

12h10
Lunch
13h

High Availability with PostgreSQL, both old and new  
PostgreSQL vs The Standard

13h50    

PgBadger    
Psql is awesome

14h40  
Short break
15h00    

The "default" postgresql.conf, step by step    
PostgreSQL and Artificial intelligence

15h50    

PgAdmin 4 Management Tool for PostgreSQL    
Divide and Conquer: Multi-tenancy in Postgres

16h40     
Closing
17h00
-18h00  
Reception
This day is all about PostgreSQL!
Take the opportunity to meet with other people interested in PostgreSQL in Belgium. Beside the talks you'll get the chance to network during the day.
The event is suitable for everybody, from first-time users, students, to experts and from clerks to decision-makers. Within the description of each talk the target audience will be mentioned.
EDB speakers at PG Day Belgium
Kangaroot has been a proud EDB Gold Business Partner for many years where we have built our expertise in PostgreSQL. Our strength lies in advising, managing & implementing high-quality technical solutions. Together we help you at every stage on your path to PostgreSQL. Come and meet us at our booth at PGConf.BE!
These articles could be interesting for you