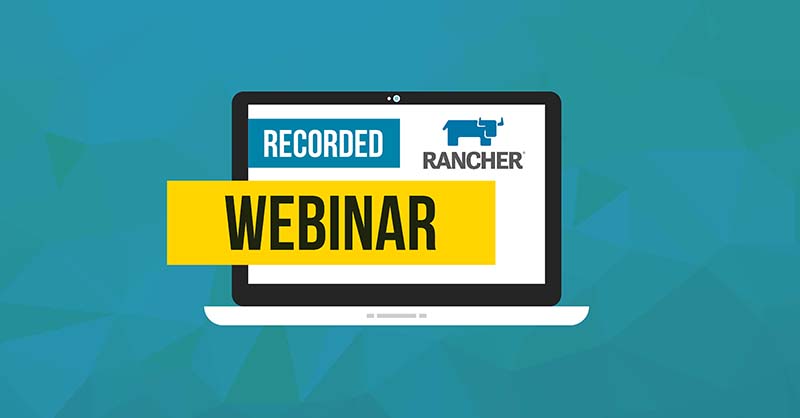 Extra remarks
Rancher Virtual Rodeos are free, in-depth online workshops designed to give DevOps and IT teams the hands-on skills they need to deploy and manage Kubernetes everywhere. 
About the Workshop 
The content will be delivered by Rancher's technical experts and aim to educate anyone interested in learning how to use containers or Kubernetes.
During these virtual hands-on workshops, our technical experts will provide an introduction to Rancher, Docker, and Kubernetes and then walk through the steps for deploying a Kubernetes cluster.
The key topics that will be covered at the Rancher Rodeos include:
Docker and Kubernetes Concepts and Architecture
Installation and Configuration of Rancher Server
Kubernetes Cluster Deployment
Application Deployment and Access
Agenda 
09:15 – 09:30 - Rodeo Introduction 
Rodeo Objectives
Docker and Kubernetes Overview
09:30 – 10:00 - Server Deployment
Machine Provisioning
Rancher Server Installation
Walkthrough of Rancher UI
10:00 – 10:15 - BREAK
10:15 – 12:00 - Kubernetes Deployment
Kubernetes Installation
Exploring the Clusters with Rancher and the CLI
Installing Applications from the Catalog
Please send me the recording of this Rancher Rodeo
Certified Rancher Partner
Kangaroot has been a proud SUSE Partner since 2000 and a Rancher partner since day one, so you know you're in good hands. We have built our expertise within Rancher's portfolio. Our strength lies in advising, managing & implementing high-quality technical solutions. This all by setting up technical processes within your management organisation.